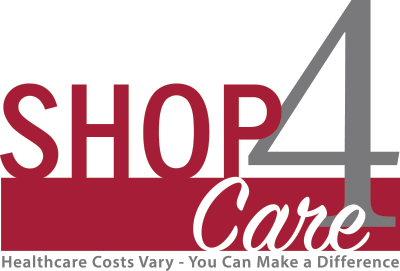 Did You Know You Can Shop for Healthcare?
The latest research indicates that nearly 20% of the dollars in the U.S. economy are spent on healthcare, more than any developed country in the world. Research also shows that it is the price of services, rather than the volume of healthcare services, that is driving this trend. Higher costs mean higher rates for our members.
Healthcare is the one consumer service that: 
We all use.

We don't know the actual cost of service prior to consuming it.

We often overspend by unknowingly going to a higher cost facility for care.

We can influence the rising cost of healthcare based on where we go for care.
CVT developed the Shop4Care program to encourage our members to be smart healthcare consumers. By exploring your options and making well-informed choices, you can help to manage your own costs and ensure that you are getting the high-quality care you deserve. Simply being aware that you could be paying less for the same service is the first step toward becoming an informed consumer.   
For example, did you know that …
You don't necessarily have to use the providers suggested by your doctor? You may ask your doctor for other options, or whether the doctor is comfortable with you obtaining the service from a lower-cost provider.

The costs of the same service can vary greatly among healthcare providers/facilities in the same community?

You can't tell the quality of care based on how much it costs?
Don't be surprised. Most consumers don't know these things either. But these statements are true. Where you go for treatment can affect the out of pocket amount you pay and also the overall cost of your healthcare plan. Healthcare pricing can vary depending on where you go for service and the cost difference can be staggering.
Your Plan Pays 100%?
Even if you have a medical plan that pays 100%, keep in mind the difference in provider costs are still being charged to the Trust and has a direct impact on the overall cost of your benefits. Using a lower cost provider will save you and the plan money in the long run and you'll be doing your part to hold down costs.
What Should You Do to Save Money?
Discuss with your physician if your procedure can be performed safely at a more cost-effective site of care.

Anthem Blue Cross and Blue Shield of California PPO plan members can access an online estimator that will help them find or check out a provider and determine the cost. (See links below.)

Or, simply call the service providers and confirm the pricing BEFORE you schedule your procedure.

Having an outpatient procedure (outpatient surgery, lab, radiology) at a hospital will usually be the most expensive option.

Also, confirm your healthcare providers are in-network providers in your health plan. Your out-of- pocket costs will be lower by choosing a provider within your medical plan's network.

But even when you are choosing among in-network providers, the price of care from those providers can vary.

If you have a high deductible health plan (HDHP) or pay co-insurance (a percentage of the price), those differences come out of your wallet.

Repeating tests you have already had can be a waste of your time and money, so ask your provider to explain why you need to repeat a procedure you have already had. In addition to the inconvenience and stress, the costs of this care can add up quickly.
Seek Out Prices in Advance
Here are several tools that can help you compare costs that you and your family members would pay for treatment. Take a moment and discover how easy they are to use.
Anthem Care and Cost Finder
CVT Anthem Blue Cross PPO members can search online for doctors, pharmacies, hospitals and other healthcare providers. Just register at anthem.com/ca and you can get important information such as office locations, services provided, patient ratings, and cost of different kinds of care. You can compare doctors side-by-side and get an estimate of what you pay based on your plan benefits.
Blue Shield of California Treatment Cost Estimator
Blue Shield PPO members also have access to an online cost estimator at blueshieldca.com. By registering, members can search more than 1,600 procedures, find a range of cost estimates and compare the treatment costs and more.
Sutter Health | Aetna Cost Estimator Tool
Sutter Health | Aetna EPO members can use the cost estimator tool located at sutterhealthaetna.com.  The cost estimator lets you search and compare actual costs for common medical procedures, treatments and services, amonty network providers and at different facilities.